In this tutorial you get a quick overview on how to create a quote in Akti. Go through the following steps.
1. Open the Quotes submenu in the CRM module.
2. Click on Add to add a new quote.
You can also create a new quote via Add "Quick add" and then "Quote".
Tip With this shortcut button you can create a new quote at any time, wherever you are in Akti.

A screen will open in which you can create the quote.
A quotation consists of 4 parts. To create the best possible quote, we advise you to create the various fields in these sections in the following order:
The quote header.
The settings of the quote. Click on the arrow on the right to open the settings.
The main body of the quote. This also contains the section where you can configure the layout of the PDF.
Notes & general conditions of the quote. Once again, click on the arrow on the right to open the Notes & general conditions.
For a detailed description, please refer to the respective manuals on these sections.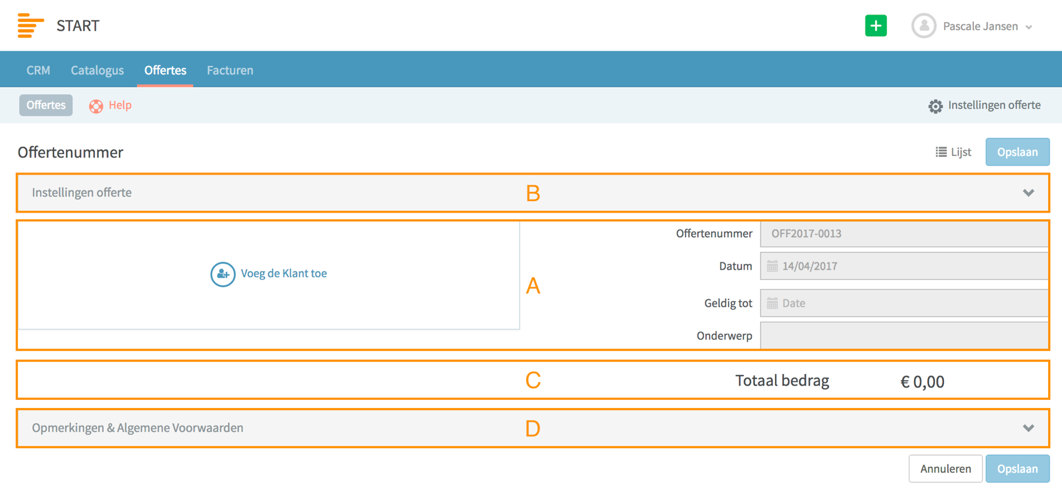 Tip To optimise the use of Quotes and enable automation, we recommend the following:
Fill in as many Settings as possible in your Akti account.

Fill in as many Quotes settings as possible.

In the customer data, fill in at least the following fields: the VAT number, the VAT regime, the default VAT rate, the payment term, the language for the documents and the Account Manager.